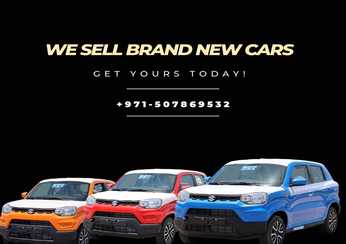 Introduction:
When it comes to the world of automobiles, Suzuki is a name that evokes a sense of trust, quality, and exceptional engineering. With a rich heritage spanning over a century, Suzuki has established itself as one of the leading manufacturers of cars globally. From compact hatchbacks to rugged SUVs, Suzuki offers a diverse range of vehicles that cater to various lifestyles and preferences. In this blog post, we delve into the world of Suzuki cars, highlighting their unique features, remarkable performance, and unwavering reliability.
1. A Legacy of Excellence:
Suzuki's journey began in 1909 when Michio Suzuki founded the Suzuki Loom Works, a company specializing in textile machinery. Over time, the company expanded its operations to include motorcycles and automobiles, ultimately becoming a pioneer in the automotive industry. With a legacy that spans more than a century, Suzuki has garnered a reputation for its unwavering commitment to innovation, craftsmanship, and superior quality.
2. Fuel Efficiency:
One of the standout features of Suzuki cars is their impressive fuel efficiency. The company places a strong emphasis on developing vehicles that are not only powerful but also environmentally friendly. Whether you opt for a compact car like the Suzuki Swift or a hybrid model such as the Suzuki Ciaz, you can expect exceptional mileage without compromising on performance. Suzuki's advanced engineering techniques, lightweight construction, and efficient engines contribute to their outstanding fuel economy.
3. Unmatched Reliability:
When investing in a car, reliability is a crucial factor to consider, and Suzuki excels in this domain. The brand's vehicles are known for their robust build quality, ensuring they withstand the test of time. Suzuki cars are built with precision, employing high-quality materials and stringent manufacturing standards. This dedication to reliability has resulted in numerous Suzuki models consistently ranking high in reliability surveys and customer satisfaction indexes.
4. Innovative Features:
Suzuki embraces technological advancements and integrates them seamlessly into their vehicle lineup. Whether it's advanced safety features like collision mitigation systems, adaptive cruise control, or infotainment systems with user-friendly interfaces, Suzuki cars offer a host of innovative features that enhance convenience, safety, and overall driving experience. Additionally, many models come equipped with state-of-the-art connectivity options, allowing drivers to stay connected on the go.
5. Versatile Range:
Suzuki offers a diverse range of vehicles tailored to various lifestyles and preferences. From the agile and compact Suzuki Ignis to the practical and spacious Suzuki Vitara, there's a Suzuki car for everyone. The brand caters to urban commuters, adventure seekers, families, and eco-conscious drivers alike. With their stylish designs, smart functionality, and versatile features, Suzuki cars provide a compelling choice for a wide range of consumers.
6. Affordable Excellence:
Suzuki is renowned for delivering exceptional value for money. The brand offers high-quality cars at competitive prices, making them accessible to a broad spectrum of buyers. Suzuki vehicles provide a perfect balance between affordability and excellence, ensuring that customers get the most out of their investment without compromising on performance, safety, or reliability.
Conclusion:
Suzuki's rich legacy, commitment to innovation, exceptional fuel efficiency, and unmatched reliability make their cars a compelling choice in the automotive market. Whether you're seeking a reliable daily commuter, an adventurous off-road companion, or a family-friendly vehicle, Suzuki has a model to suit your needs. With their combination of cutting-edge technology, attractive designs, and affordability, Suzuki cars continue to captivate drivers worldwide, promising a remarkable driving experience that is truly second to none.