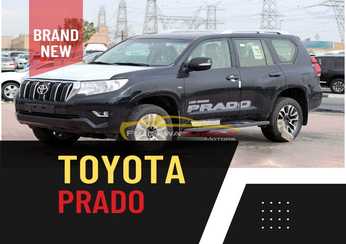 The Toyota Prado is a well-known SUV that has been in production since 1984. It is a vehicle that is loved by many for its toughness, durability, and reliability. The Prado is an excellent off-road vehicle that can handle any terrain with ease.
Exterior
The Toyota Prado is a good-looking SUV that comes with a muscular exterior. The vehicle has a bold front grille with a chrome finish that gives it a distinctive appearance. The headlights and fog lamps are designed to be aerodynamic, ensuring they complement the overall look of the vehicle.
Interior
The Prado is a spacious vehicle that can seat up to seven passengers. The interior is well-designed with plenty of storage space, including cup holders, compartments, and a large glove box. The dashboard is well-laid-out, and the controls are easy to reach and use. The seats are comfortable, and the rear seats can be folded to create additional cargo space.
Features
The Toyota Prado comes with a range of features that make it a fantastic off-road vehicle. It has a four-wheel drive system that ensures maximum traction and stability on rough terrain. The vehicle also has a terrain management system that allows the driver to select the appropriate mode depending on the terrain they are driving on.
The Prado also comes with a range of safety features, including anti-lock brakes, stability control, and multiple airbags. It also has a rearview camera and parking sensors, making it easier to park the vehicle.
Engine
The Toyota Prado comes with a range of engines, depending on the market. The most common engine is a 2.8-liter turbo-diesel engine that produces 177 horsepower and 450 Nm of torque. It is a powerful engine that provides excellent acceleration and fuel efficiency.
Conclusion
The Toyota Prado is an excellent SUV that is perfect for off-road adventures. It is a reliable, durable, and tough vehicle that can handle any terrain with ease. With its spacious interior, range of features, and powerful engine, the Prado is an excellent choice for anyone looking for an off-road vehicle.